Local Assist-2-Sell Named #1 In North America AND Small Market!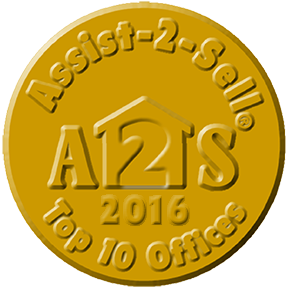 Lewiston ID – March 29, 2017 – Barry Wardell, Sr. Vice-President of Assist-2-Sell Franchise Operations congratulates Debbie Lee and her team who have been named #1 of all Assist-2-Sell offices in North America in overall sales for the previous year. Wardell said, "This is something to cheer about and it is also a testament to the exceptional quality of service they provide to their clients."
As a full-service real estate brokerage, Assist-2-Sell's team of experienced brokers and agents handle everything throughout the entire process of selling a home. That includes pricing the home; advertising and marketing online and offline; showing the home to prospective buyers; working with other local brokers and agents; and managing all of the paperwork and the closing.
In response to Mr. Wardell, Debbie states, "My agents and I worked very hard last year, so I was really proud to accept the #1 producing office award for the 3rd year in a row. It's something that will help keep us motivated in 2017. Last year, we focused on providing great customer service and saving home sellers a lot of money. And we're going to keep focusing on those things again this year."
"It really is a great time to buy a home. Some of the best deals that I have ever seen are right now. The selection of houses is not as abundant as it was; with interest rates still at all-time lows, properties that are priced right are being sold in less time," commented Lee.
ABOUT ASSIST-2-SELL
Based in Lewiston ID Assist-2-Sell Discovery Real Estate was opened by Vanessa Hiemgartner, and in August of 2007, Debbie Lee took over as owner/broker. As "North America's Leading Discount Real Estate CompanySM," Assist-2-Sell® provides home sellers with full brokerage services for a low flat fee, saving consumers nationwide more than $1 billion in commissions.1
The company also offers a full range of services to homebuyers. Lee and her agents are fully licensed and are members of the National Association of REALTORS®. Assist-2-Sell Discovery Real Estate has been recognized for their achievement of #1 in North America for number of listings sold for 2015. Assist-2-Sell Discovery Real Estate is independently owned and operated.
To get the service you deserve, call 208.798.7822 or visit www.LewistonClarkstonHomes.com.
1 Savings based on statistics since January 1, 2000 for all Assist-2-Sell offices in North America compared to paying 6% commission.
Six percent used for comparison purposes only. Commissions may be negotiable and are not set by law.